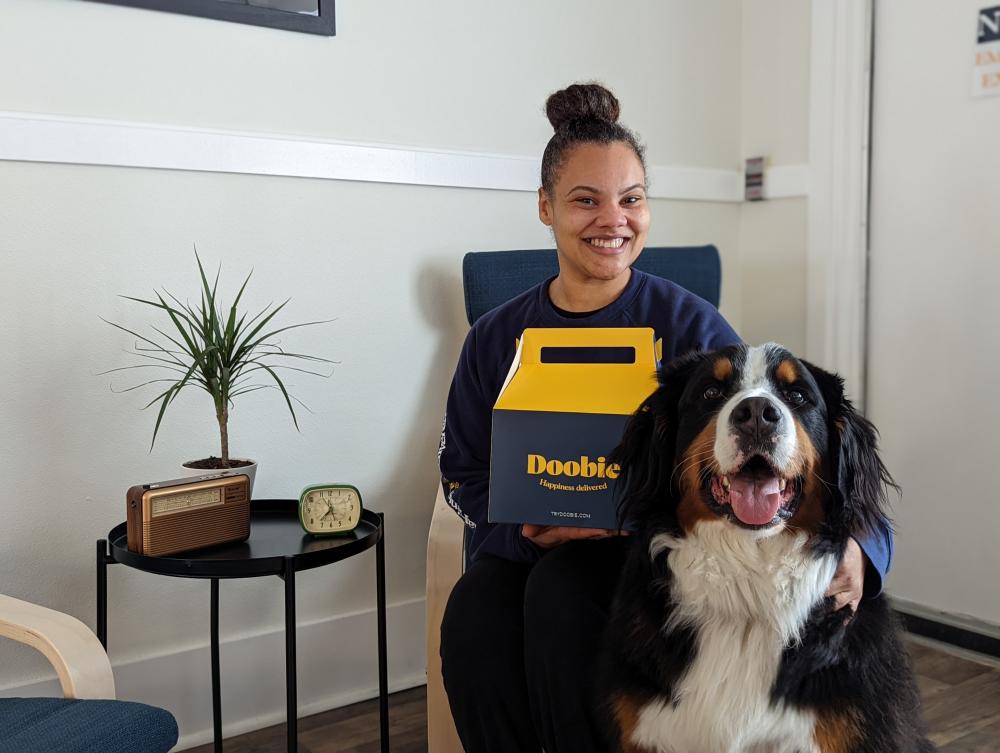 When Ericca Kennedy talks about Doobie's first delivery in Massachusetts, she finds it hard not to cry.
"We delivered to my grandmother and my aunt," Kennedy said as her voice slowed, sitting in Wareham's first licensed cannabis delivery business: her business.
"They've been — the most — incredible support system for us through this process," Kennedy said, pausing as her voice choked up. "And I don't think that any of this would be possible at all without them."
A few tears slip down her cheek as she recounts that first delivery, bringing a salve to her grandmother since, "bless her heart, she doesn't smoke," Kennedy said.
That marked Doobie's first delivery after it was approved to begin operations on Sunday, May 1, the Massachusetts co-founder said.
Kennedy's love for family is apparent as one walks into Doobie's warehouse on Recovery Road, just down the street from the dispensary Trade Roots.
Her grandfather's varsity football jacket from his time at Wareham High School — 1959, or maybe 1960, Kennedy says — is framed up on the office wall. The co-founder is a sixth-generation Wareham resident, and she and her husband, along with a few others, have been working on getting Doobie licensed since 2018.
"It's just been such a long road," Kennedy said of the time leading up to Doobie's opening. "It means a lot" to be open now, she said.
The Kennedys began working with Doobie in early 2020 to open the company's first Massachusetts store, which Ericca Kennedy leads as its director. Doobie also operates in Missouri, California and Arizona.
Doobie is Wareham's first cannabis delivery business, and it doesn't have a public-facing retail side. The state's Cannabis Control Commission authorized Doobie to start operations at the beginning of May.
The business is also one of the CCC's Certified Economic Empowerment Priority Applicants, which helped Doobie earn priority license reviewing from the state.
"These programs were developed in response to evidence which demonstrates that certain populations, particularly Blacks and Latinos, have been disproportionately impacted by high rates of arrest and incarceration for marijuana and other drug crimes as a result of state and federal drug policy," the CCC states in a report. "Criminalization has had long-term ill effects, not only on the individuals arrested and incarcerated, but on their families and communities."
Wareham is one of the state's 29 communities of disproportionate impact, based primarily on arrest rates, according to the CCC.
As a Black woman, Kennedy is acutely aware of this and the advantages granted by the certification, but she said the process still wasn't easy.
"It wasn't going to happen overnight because we had the economic empowerment certification," she said. "We still had to work every day, day in and day out, to be able to make Doobie."
Now, customers in Wareham and beyond can order cannabis from an extensive menu to their doorstep.
The process is a little more involved than your average pizza delivery. Still, Kennedy and fellow co-founder Jessie Powell emphasized the importance of talking with customers to make them feel comfortable throughout the delivery.
One difference: cannabis delivery workers have to wear body cameras to record all deliveries, according to state law.
Customers also have to order delivery to their residences. They should be prepared to have their ID in hand as their identification is checked a couple of times throughout the process.
Only then will customers be handed their bright yellow-and-blue "Happy Box" from Doobie, though if they want a more discrete package, those are available too, Powell said.
"We might have that new customer who is just looking for a very discrete experience, and we try to offer that too," she said.
Residents across the South Coast and in Boston can go to www.trydoobie.com or call 888-8DOOBIE to order cannabis products to their residences.