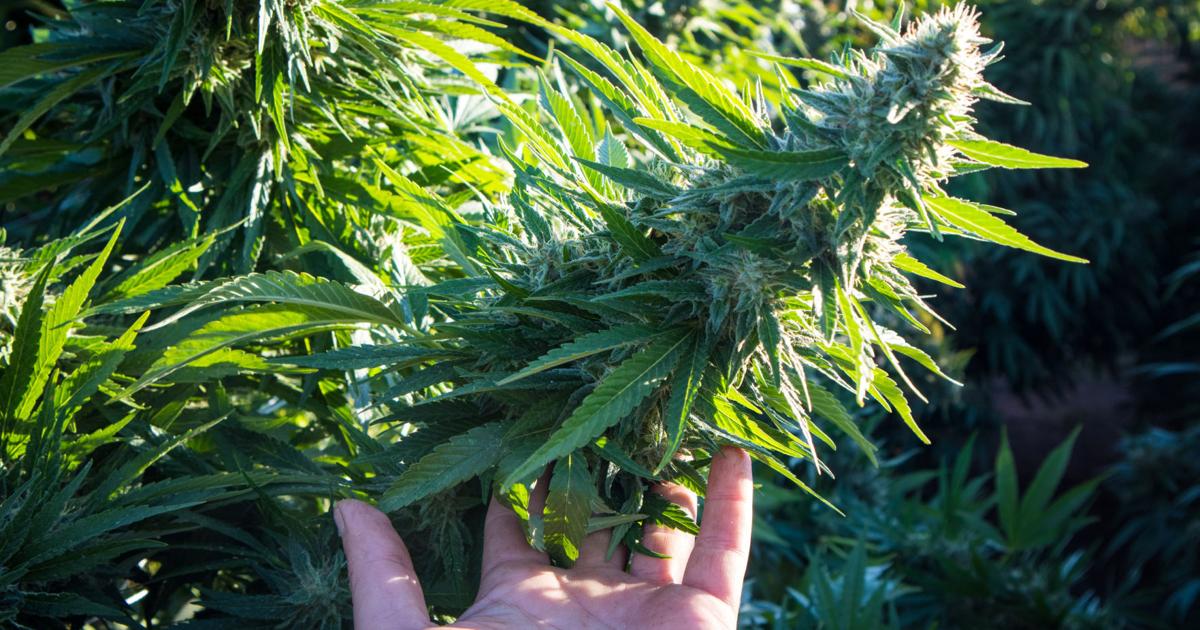 An ordinance change allowing the retail sale of adult-use cannabis in Napa is nearing the final step of approval by the Napa City Council Tuesday night.
Napa currently only allows medicinal sales of cannabis, meaning customers must have a doctor-approved health card to purchase cannabis products. According to adult retail rules, anyone 21 years of age or older can purchase cannabis products by showing ID.
California legalized recreational cannabis in 2016 after 57% of voters — and 61% of Napa County voters — voted to approve Proposition 64. But most California cities, like Napa, still don't allow the sale of adult cannabis.
Support local reporting and the people who report it by subscribing to the Napa Valley Register. Special Offer: Subscription for $5.99 per month…
Local cannabis retailers say opening sales to adults will boost business and increase the city's tax revenue.
Aimee Henry, an owner of Napa Cannabis Collective, said allowing adult sales will essentially allow her business to become sustainable.
"In Napa, the demand for medicine really wasn't high enough to have a sustainable business that would break even, let alone break even," Henry said.
People also read…
She added that while it now only takes about 10 to 15 minutes to get a medicinal cannabis referral, the need for a referral is still a barrier for many people.
One reason is that referrals typically cost $30 to $40, Henry said. People may not want to have a conversation with a doctor about why they want to use cannabis. And adult-use cannabis can be bought or delivered in nearby cities without the need for a health card, she added.
"The majority of Napa's potential sales went to Vallejo, Fairfield or Santa Rosa, or people are ordering supplies from outside," Henry said. "…We're really losing significant revenue, not just for us as a retailer, but for the city as well."
Riccardo Natoli, president of The Herbivore Cannabis Dispensary, said Napa's local economy relies heavily on tourism. With that in mind, Herbivore is focused on a high-end luxury market, he said, and expects about 30% to 40% more business if the change is approved for adult use.
Natoli also recommended the establishment of a moratorium on new adult-use applications to protect Napa's six current pharmacies from the arrival of new adult-use retailers, particularly large corporate brands.
"For us, it's a sweet and sour proposition," Natoli said. "We need to make sure that they protect existing retail operations as well as pure recovery."
A two-year moratorium on new retail cannabis uses, which would apply to outside pharmacies, was proposed by a coalition of five pharmacies last year. Retailers argued the moratorium would allow businesses to stabilize financially from the COVID-19 pandemic and it would give the city time to figure out how and if the adult-use market should be regulated.
"From our point of view, we don't try to exclude anyone; We're not trying to stop other businesses from opening and getting a piece of the pie," Henry said. "We want to make sure our businesses can be sustainable."
But most Council members and planning commissioners did not support the proposed moratorium, and no action was taken to include it.
Changing the regulation has been in the works for much of the past year.
After prioritizing an ordinance update as a policy goal in March 2021, the City Council voted 4-1 in October 2021 for staff to prepare the amendment allowing retail sales of cannabis to persons 21 and older. The city's planning commission unanimously approved the change in November.
The change, allowing sales to adults, would go into effect 30 days after approval by the Napa City Council.
In other news, the city council will hear an update on the Make it in Napa initiative — an attempt to support the space needs of local creatives — and recommendations for an action plan to implement the initiative's goals.
The Make it in Napa survey, on which the action plan is based, conducted last year found that space in Napa is unaffordable for artists and makers in general.
Proposed actions include the formation of a steering committee to continue the initiative; Improving communication and increasing the visibility of the city's creative sector; and improving city infrastructure and policies in support of the initiative according to the 78-page Creative Spaces and Local Manufacturing Action Plan.
In addition, the action plan calls for the city to adopt incentive programs to promote Napa as a place for creative people to live. that it creates new affordable space opportunities; that it explores funding and partnership opportunities and strengthens regional ties; and that it creates a manufacturer-centric neighborhood.
The Napa Valley Vine Trail has long had a half-mile gap on Soscol Avenue — until now, with a widened sidewalk solving the problem.
Barry Eberling
A new California law requires residents and businesses to separate organic materials like banana peels from regular trash and recycling.
A tapeworm entered this Napan's brain in 2015. How is he today?
The City of Calistoga is preparing to make the County of Napa a new offer to purchase all of the Napa County Fairgrounds property, including…
Three Californians explain why they decided to leave the Golden State for Arkansas — and what they found there.
The Napa Valley Vintners recently launched their new Collective Napa Valley, inviting both locals and wine lovers from around the world to join a…
Local EV owners are listening to the EV charging network in the state of Napa County.
Cyclists use a newly widened sidewalk that fills a gap in the Napa Valley Vine Trail along Soscol Avenue.
In a valley with over 500 wineries and countless others across the country and around the world, it's getting harder and harder for independent winemakers…
Napa Valley has attracted many young winemakers from around the world. But in the case of Laura Díaz Muñoz, the trip to Napa was meant to be just a…
Noel Bito aims to "bring back the old school barber shop" with his Midtown Barbershop, soon to open at 1080 Main St., Suite C, in St. Helena.
You can reach Edward Booth at (707) 256-2213.
Subscribe to our Daily Headlines newsletter.